BCS Crane Hire was established in November 2013 by Bill Cussen & sons William & Ciaran. A new name with a professional experienced approach to Crane Hire & Contract Lifting.
Bill Cussen began his career in the crane industry in the early 60's working on various projects throughout Ireland, In the early 70's Bill decided it was time to set up his own crane hire business named Cussen Crane Hire, This in turn became Cussen & Co (Crane Hire) Ltd.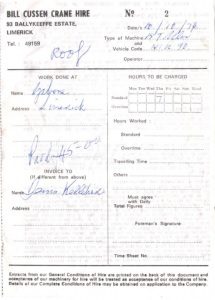 Bill Cussen was at the forefront of this company and built it from strength to strength, In the late 70's/early 80's the mid west region of Ireland enjoyed a welcome upturn in construction activity with some very large scale projects coming to the area, namely the Aughinish Alumina plant in Askeaton, ESB Moneypoint power generating station in Co Clare, & a large expansion to the Irish cement plant just outside Limerick city. These projects enabled Cussen & Co (Crane Hire) Ltd to expand its fleet and at the time added some of the most modern cranes available e.g Coles Hydra 45/50, Coles Hydra 25/28, Grove TMS 180 & P&H Omega, In 1986 a Grove TMS1100 (110T Capacity) crane was added to the fleet, operated by Bill himself this was the the largest mobile crane on the western sea board! This crane greatly added to the strength of the company and brought with it a broader, more challenging and diverse range of work.
In The early 90's Bill's sons William & Ciaran joined the company where they gained a wealth of experience from operating & maintaining cranes and later planning crane operations, dealing with customers & sourcing the best equipment available. Cussen & Co (Crane Hire) Ltd was a highly respected name in the irish & international crane industry.
By 2013 the Irish economy was beginning to turn a corner, Things were changing and new challenges were emerging and facing the Irish crane industry, demands on more modern, safer and environmentally friendly machines were high and Bill, William & Ciaran decided it was time to go 100% a Cussen family business which resulted in BCS (Bill Cussen & Sons) Crane Hire Ltd Being established.
BCS Crane Hire encapsulates a wealth of experience handed down from Bill to Ciaran & William, a total hands on approach with a wealth of knowledge that can only be obtained from years of hard work, dedication & determination, Unfortunately Bill Cussen passed away in December 2015 after a short illness, however his work ethic and respect for people live on within his company of which he was very proud.